It's another year and it's time for Black Friday lifetime deals. Check out these from Appsumo, click on the image to view all the lifetime deals available for Black Friday.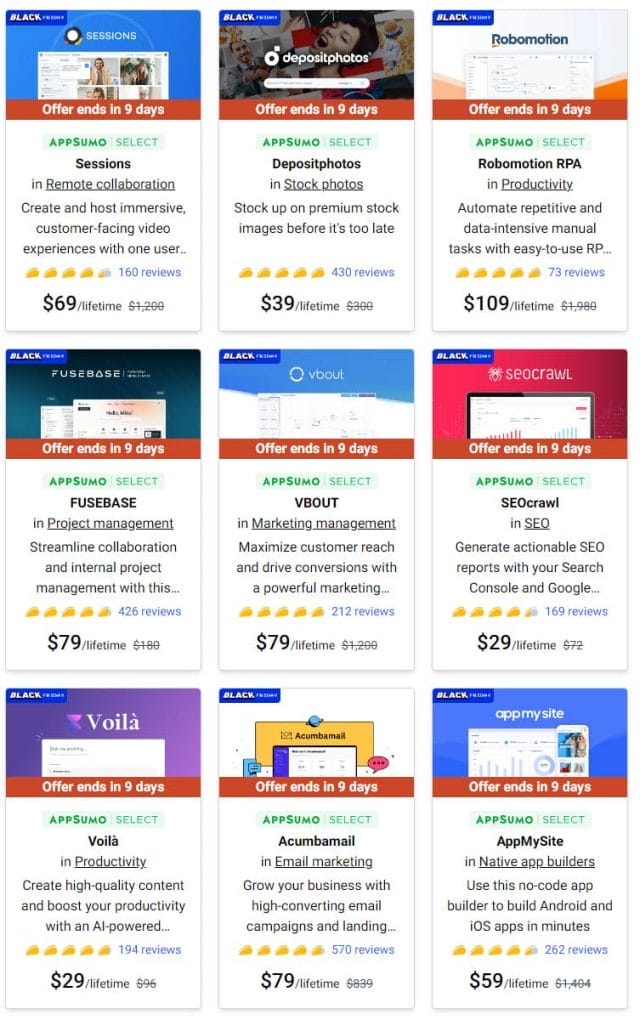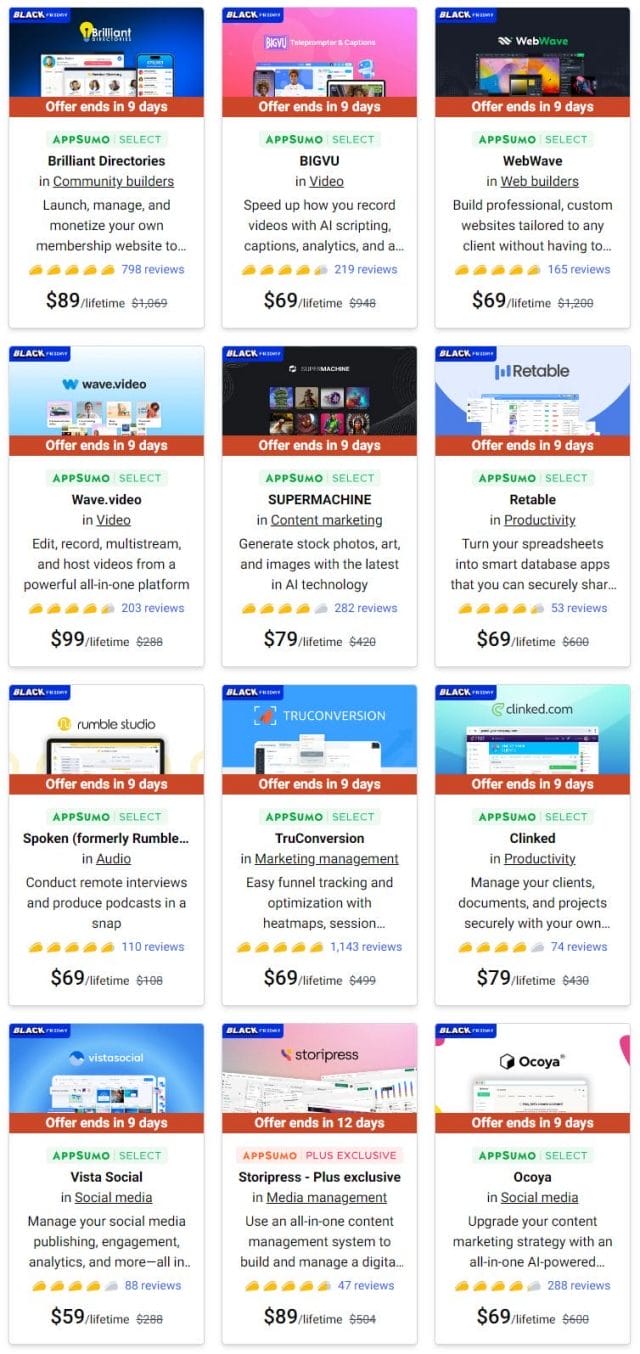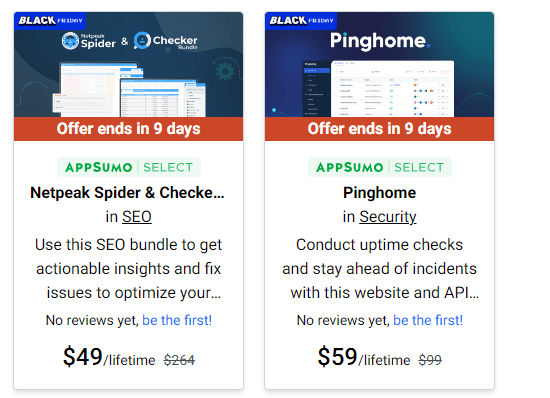 Session Lifetime Deal $69 – Create and host immersive, customer-facing video experiences with one user-friendly platform
Depositphotos Lifetime Deal $39 – Stock up on premium stock images before it's too late
Robomotion RPA Lifetime Deal $109 – Automate repetitive and data-intensive manual tasks with easy-to-use RPA bots
FUSEBASE Lifetime Deal $79 – Streamline collaboration and internal project management with this client collaboration platform
SEOcrawl Lifetime Deal $29 – Generate actionable SEO reports with your Search Console and Google Analytics data
Voila Lifetime Deal $29 – Create high-quality content and boost your productivity with an AI-powered personal assistant
Acumbamail Lifetime Deal $79 – Grow your business with high-converting email campaigns and landing pages
AppMySite Lifetime Deal $59 – Use this no-code app builder to build Android and iOS apps in minutes
Brilliant Directories Lifetime Deal $89 – Launch, manage, and monetize your own membership website to dominate your market
BIGVU Lifetime Deal $69 – Speed up how you record videos with AI scripting, captions, analytics, and a mobile teleprompter
VBOUT Lifetime Deal $79 –  Maximize customer reach and drive conversions with a powerful marketing automation platform
WebWave Lifetime Deal $69 – Build professional, custom websites tailored to any client without having to code
Wave.video Lifetime Deal $99 – Edit, record, multistream, and host videos from a powerful all-in-one platform
SUPERMACHINE Lifetime Deal $79 – Generate stock photos, art, and images with the latest in AI technology
Retable Lifetime Deal $69 – Turn your spreadsheets into smart database apps that you can securely share with your team
Spoken Lifetime Deal $69 – Conduct remote interviews and produce podcasts in a snap
TruConversion Lifetime Deal $69 – heatmaps, session recording, and form analytics
Clinked Lifetime Deal $79 – Manage your clients, documents, and projects securely with your own branded client portal
Vista Social Lifetime Deal $59 – Manage your social media publishing, engagement, analytics, and more—all in one place
Storipress Lifetime Deal $89 – Use an all-in-one content management system to build and manage a digital publication
Ocoya Lifetime Deal $69 – Upgrade your content marketing strategy with an all-in-one AI-powered platform
Gumlet Video Lifetime Deal $59 – Host, secure, and stream videos with a personalized player in minutes
Dezygn Lifetime Deal $49 – Create graphic designs with a beginner-friendly design studio packed with 15+ tools
Logo Diffusion Lifetime Deal $39 – Create stunning logos and graphics in seconds with this AI-powered design platform
Closely Lifetime Deal $59 – Closely is a cold outreach platform that combines LinkedIn and email automation with B2B database
ZeroWork Creator App Lifetime Deal $79 – Build automated, proprietary TaskBots and sell them in the ZeroWork marketplace
Fraud Blocker Lifetime Deal $49 – Prevent fraudulent and accidental clicks from draining your Google Ads spend
Contentpace Lifetime Deal $79 – Boost organic SEO traffic in minutes with an AI-powered content optimizer
Wobb Lifetime Deal $59 – Find influencers and run marketing campaigns that drive results with this all-in-one platform
Consolto Lifetime Deal $59 – Boost remote meetings with customers through video chat, appointment scheduling, messaging, and analytics
chopcast Lifetime Deal $89 – Instantly cut long-form videos into clips to promote your content on social media
Orimon.ai Lifetime Deal $69 – Build & deploy your sales-enabling, ChatGPT-like AI chatbot in under 2 minutes
Storiad Lifetime Deal $59 – Ramp up book publicity using an integrated marketing platform built for authors
Netpeak Spider & Checker Buider Lifetime Deal $49 – Use this SEO bundle to get actionable insights and fix issues to optimize your website
Pinghome Lifetime Deal $59 – Conduct uptime checks and stay ahead of incidents with this website and API monitoring platform
Enjoy and I hope you snag a lifetime deal!
Note: These deals will end on the 28th of November so get these lifetime deals before they disappear.